3 Home Cleaning Approaches For Your On-The-Go Lifestyle
|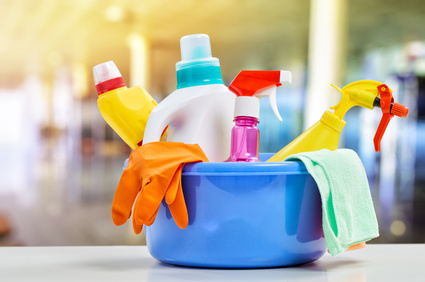 If done correctly, a clean home can do wonders for your sanity. Your residence should serve a Mecca of sorts from your version of "the daily grind." Unfortunately for most, this is far from the case — our busy lifestyles can lead to procrastination and avoidance. While this may seem like the path of least resistance after a long day of work, it's a sure-fire way to keep your mountain of messiness compounding in labor interest. The time is now, to take the bull by the horns — or the broom by the handle — and progressively make your way to the promise land: A clean and serene domicile. Here are three practical home cleaning approaches for your on-the-go lifestyle.
A Little Home Spot Cleaning Goes a Long Way
Although it goes without saying, it's fairly easy to become immersed in a sea of to-do tasks. Before we know it, the day is over and we don't have a single, solitary second to ourselves. To top it off, we sometimes don't even get halfway through our tasks. This only leads to further burnout and frustration — yet another hit on our confidence. Some of us have this vision that we must do everything at once, or we aren't making any real progress. This is a bad way to go! You don't always need the big wins in life (or cleanliness). Building a string of small victories will give your your greatest momentum; especially when it comes to making leeway on indoor disasters. Just a half hour per day — times five day — over the course of a week will do wonders. Much like putting names to faces, your items will be more readily accessible in spots and places. Patience will be a necessity if your place looks like it's straight outta a "Hoarders" episode. However, you'll going to see real progress over the course of time — your home will be immaculate sooner than you think.
Time Is Money and a Home Cleaning Service Pays for Itself
Okay, so you simply don't have any time and/or a smidgen of energy? If this is the case, and you do have the monetary resources — hiring help is a lot less expensive than you may think — a home cleaning company is the way to go. Not only are they trained professionals, but the good ones will have an expertise in the areas of work you may not. This is undoubtedly the case with handyman services, who know significantly more than a thing or two in their respective fields. You'll capitalize even further with the various coupons and deals that are out there today. We know a company (sarcastically speaking) that not only does the job well, but offers optimized and personal customer service with it.  
Designated Weekly Home Cleanings Free Up Those On-The-Go Days
Still not looking to fork over the dough to delegate your home cleaning needs? The last tip is a fairly common one; designate a weekly cleaning day. Your cleaning session doesn't have to be more than an hour. Remember: Progress not perfection. Assuming you're a participant in the five-day/40-plus hour work week, you'll have a two full days, most likely during the weekend, to complete your long overdue tasks. Clearly, you'd rather be going on that Hunter Mountain skiing trip with your friends/significant other, or staying in to binge-watch Netflix. However, you're free time inside the confines of your untidy pad — and how you choose to spend it — won't be as joyous if you're running amok inside… muck.